South Florida's Cultural Arts Park Capital Improvement Campaign
The Growing Inspiration Capital Campaign will fund a wonderous, one-of-a-kind place where children of all abilities can laugh, learn and play together. People of all abilities will play with animals, enjoy an awe-inspiring playground, learn about gardening, tour 14-acres of botanical garden and native landscapes, enjoy theater, live music and art. Help individuals discover the joy of inclusivity by donating today.
If you believe that the preservation communal spaces, cultural amenities and quality of life are important to the South Florida community, then the Growing Inspiration Capital Campaign deserves your support.
Donate today.
22% of the Way to the Goal!
We are excited about this tremendous public-private effort to expand and enhance the gardens for the enjoyment and education of future generations. We encourage everyone to support this wonderful project.

BJ Duncan, Chair of the Friends of Pinecrest Gardens
Pinecrest Gardens has raised more than $55,000 in cash and pledges, and $265,000 in grants toward its $1.5 million goal to fund improvements. The Village anticipates the capital campaign continuing through 2022, with construction commencing in 2021.
The Future – Inspiration Center, Playground & Petting Zoo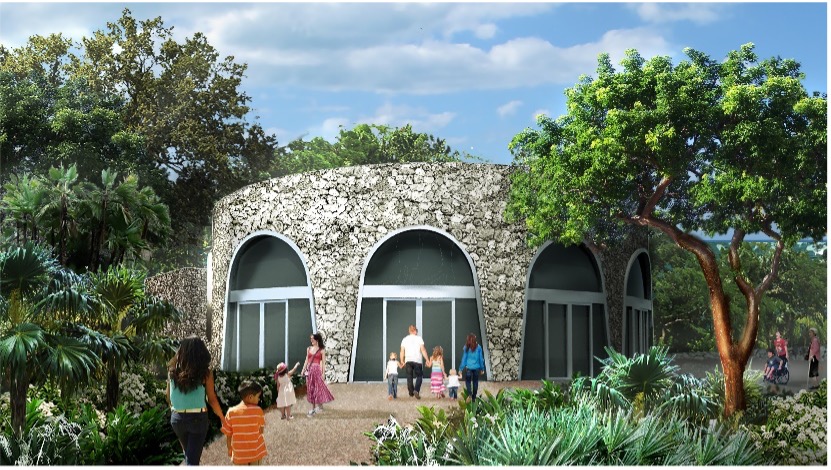 The Upper Garden Improvement Conceptual Master Plan that was commissioned by the Village Council in 2019. The Master Plan provided the vision of future facility improvements that would improve program access and make Pinecrest Gardens a world-class facility with Americans with Disabilities Act compliant restrooms and accessible playground, expanded Sensory Learning Garden focusing on all-inclusive activities, a petting zoo that would offer children and adults of all abilities the opportunity to engage with animals and provide those animals with a better quality of life, and an educational center with a portal to the sensory and learning garden for people to gather and learn about the garden, the environment, the importance of conservation and the benefits of a healthy diet.
Donate today.
Following the master planning process, the highly experienced landscape architectural firm of Landscape DE and the architectural firm William Lane Architect completed design of:
A 2,253 square foot Inspiration Center
four new picnic areas and restrooms
outdoor spaces (sensory learning garden and event terraces)
a new all-inclusive playground featuring garden creatures
a new petting zoo, interactive shelters and barn
connecting pathways and additional gardens
Altogether, the plan improves four acres. The Inspiration Center design concept provides panoramic views of the gardens to the east and south with an outdoor terrace that allows for views of the iconic Swan Lake. This unique learning space is designed to inspire people of all ages and abilities with art and horticulture displays set in a 1,276 square-foot multi-purpose room equipped with a catering kitchen for all occasions.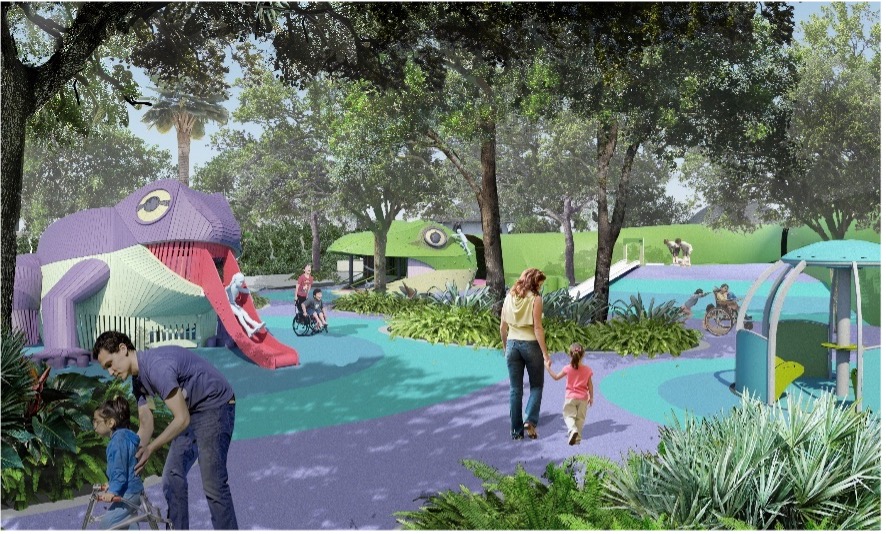 As visitors walk through the new moon gate from the meadow, they will be transported to a unique, all-inclusive playground that combines art and nature through whimsical designs featuring a lizard, a frog, a spider and other garden creatures. Nature trails will meander towards the new petting zoo that will feature the "Village" – three interactive shelters where visitors can learn about and pet the animals. The backyard to those animal homes will feature a large open space where the zoo animals will roam and play freely. The climbing rock will be a prominent feature that will give visitors a thrill as they watch the goats climb to its summit. The perfect backdrop for the new zoo will be a barn to house the animals during storm events. The barn will allow opportunities for visitors to learn and interact with miniature horses, miniature cows, goats, sheep, pigs, chickens and rabbits.
The all-inclusive playground, petting zoo, learning garden, ADA pathways and Inspiration Center will complete the Village's total vision of providing a place for people of all abilities to enjoy history, nature and culture," said Alana Perez, Pinecrest Gardens Director. "We are doing our part to continue to enhance this treasure for the entire metropolitan area.

Alana Perez, Pinecrest Gardens Director
Donate today.
The final feature of the improvements is the Sensory Learning Garden. It will be the perfect setting for individuals of all abilities to improve physical fitness, health, mood and cognition. Gardening and plant care help children develop gross and fine motor skills. Time outdoors, breathing fresh air, and being exposed to sunlight are extremely beneficial to everyone's overall physical health. Sensory gardens help children develop important life skills including emotional regulation and self-reliance. It creates an opportunity for children to experience textures, tastes and sounds they may otherwise not be exposed to, such as a birdsong, a velvety petal, a jagged rock, moist dirt, tiny seeds and large shade trees.
Growing Inspiration Campaign History
Pinecrest is very proud of this forward-thinking campaign for a major cultural amenity for all the citizens of the Greater Miami-Ft. Lauderdale area.

The Honorable Village of Pinecrest Mayor Joseph M. Corradino
A significant initiative began in 2012 to develop sensory programming to serve families with children on the autism spectrum. All too often, the disorder causes isolation, stress and a sense of "walking on pins and needles" for the child, as well as for siblings, parents and extended family members. By partnering with organizations that serve children and families living with autism, including VSA Florida, Autism Speaks, and the Miami-Dade County's All Kids Included initiative, Pinecrest Gardens committed the allocation of resources and programming for this most special population of children. That program – aptly titled "Growing Together", laid the foundation for Pinecrest Gardens' larger quest to ensure that every child living with autism or other developmental or physical disability experiences all the magic of the garden.
Donate today.
In 2018, Village leaders considered a Comprehensive Outdoor Recreational and Educational Plan referred to as the Pinecrest Gardens ADA Upper Garden Initiative. The plan's primary focus was to stop stigma and segregation for children with disabilities. The plan noted that more than one in four residents of Miami-Dade County (25.7%) suffers from a disability, and 1 out of every 139 children in the county has been diagnosed with Autism Spectrum Disorder.
Programming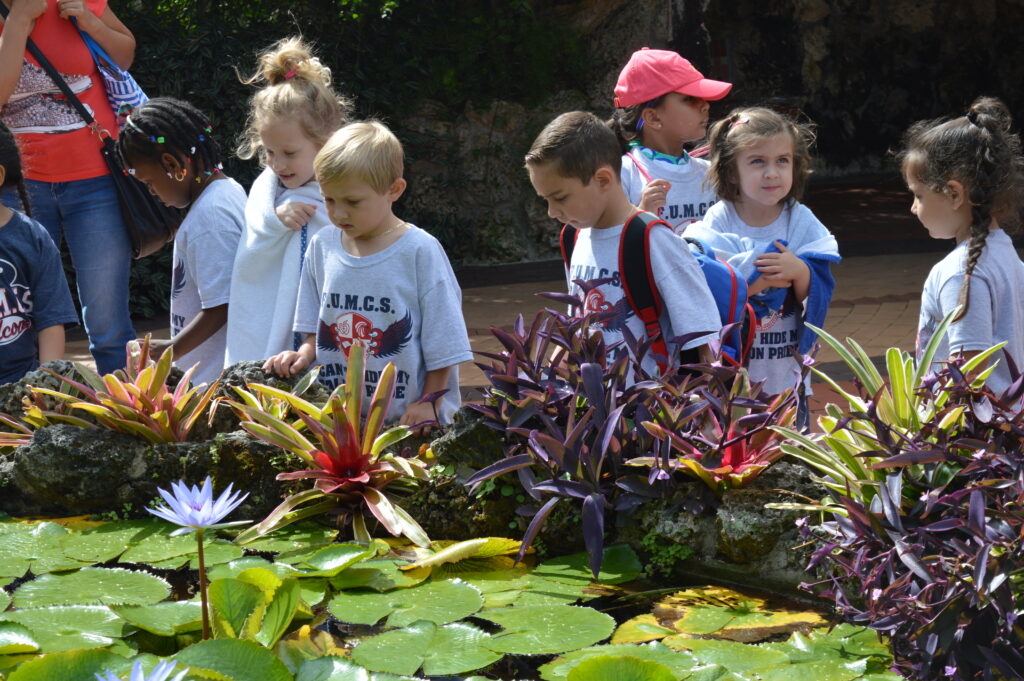 Education. By definition, a public garden exists not only for visitors to take pleasure in nature, but to enhance their knowledge of horticulture and environmental stewardship. Success of the Growing Inspiration Capital Campaign will ensure that there are both facilities and programs to significantly expand educational opportunities for all ages. With a classroom designed into the new Inspiration Center, the Pinecrest Gardens will be positioned to partner with other educational institutions to increase the scope and the depth of its programming for children and adults.
Art. Across the country, botanical gardens have truly become outdoor art museums, and Pinecrest Gardens is no exception. With the opening of the new upper garden, the Greater Miami-Ft. Lauderdale metropolitan area will have a unique space for visitors to enjoy outdoor sculpture. The upper garden will incorporate art into its play structures and animal enclosures. This natural setting will showcase sculptures of natures' creatures and abstract art.
Conservation. Conservation is defined as the preservation of natural resources from loss, waste or harm. At Pinecrest Gardens, we are committed to conservation through education and local environmental action. We strongly believe that exposing the public to programming which explains the importance that flora and fauna play in the preservation of our world will ensure our planet's continued survival.
Celebration. Pinecrest Gardens has already become a destination for outdoor community events, private parties and small weddings. The setting is indeed unmatched in our community! The Inspiration Center with surrounding gardens and terraces will allow for more space for formal receptions and dining for up to 200 people, a full catering kitchen, and accommodations for all weather conditions. Increased revenue generated by events in this unique modern venue will be attractive for the entire metropolitan area and greatly contribute to the garden's annual operating budget.
Campaign
The Growing Inspiration capital campaign for the Pinecrest Gardens is a shared responsibility beginning with each and every one of us. We ask you to consider a personal gift in support of this project, sharing in the Village of Pinecrest's investment to ensure a world class communal green space for you, your family, and all the people of the metropolitan area.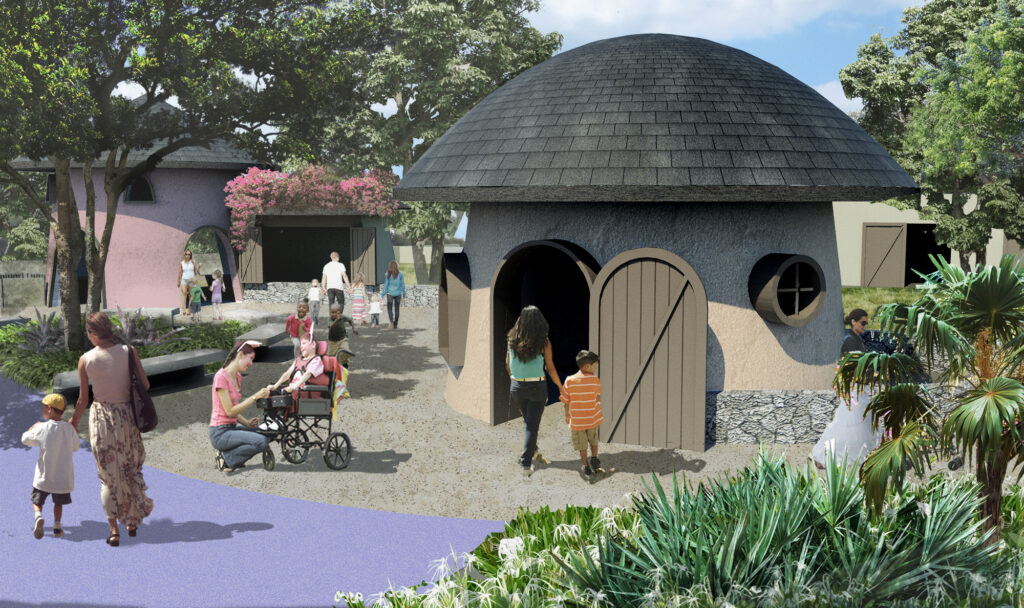 Donate today.
From Our Supporters…
"In our active, fast-paced world, we often find it difficult to unplug. The Pinecrest Gardens Sensory and Learning Garden is a destination of peace and serenity that allows us to slow down, breathe the fresh air and relax in the living room of nature. As we invite people from around the country to spend time with us, our landscaped gathering space will make people feel better, happier and connected to their souls. What a beautiful gift!" ~ Kelley Schild, Pinecrest Garden Club President
"Over the years, The Garden Fund has watched over and supported the seeds being planted and the gardens mature – growing into a beautiful, welcoming gift to our community. We are happy to have the opportunity to be part of a significant expansion of the Upper Garden project. Our support of this vision will create an inheritance for our families and all who treasure what beauty and nature bring to our lives." ~ Lynn Wille, The Garden Fund President
"Panter, Panter & Sampedro has been actively involved in our community for many years. Pinecrest Gardens has been a huge part of our life and our community and we are proud to contribute to making sure that the beauty continues. We believe in supporting our community in all respects and are proud to be a part of the cultural initiatives including arts, music and education for our community." ~ Mitchell Panter, Panter, Panter & Sampedro
"As a member of the Pinecrest Garden Club, a volunteer and a supporter of the various cultural activities, it has been a true delight to be part of the full breadth of projects at Pinecrest Gardens. I'm especially excited about the new Upper Garden initiative which will bring the community together to experience and enjoy the amenities, regardless of their abilities. The Garden Club's support of the Sensory Garden helped to open up a world of possibilities to those with special needs. It has been an amazing experience witnessing the transformation of an unsightly jungle to a cultural hub set on the most extraordinary botanical stage." ~ Ines Mander, Pinecrest Garden Club
"I am pleased that the Village's vision for the Upper Garden Project, dating back in the 2016, is moving closer to reality. Our community – including Village elected officials, business leaders, philanthropists and voters – has continually shown a commitment to preserving green space, providing exemplary educational and cultural institutions, and ensuring a high quality of life for our citizens. Our "Growing Inspiration" Capital Campaign is an outstanding example of what government, generous donors and volunteer spirit working together can achieve." ~ Councilmember Anna Hochkammer, Board of Directors, Friends of Pinecrest Gardens